Tomorrow, July 23, is predicted to be the hottest day so far this year. A super hot day is perfect for lying around reading a "cool" book. I have a pile waiting for just such a day. I must admit that the past couple of weeks have been such wonderful weather that I have slowed down on my reading. Hours on my bike and in my kayak are taking my time.
Since July 1 I have read a wide variety of books. Several picture books, a couple of graphic novels and just one Newbery contender.
Picture books:
Graphic Novels:

Novels:
Capture the Flag by Kate Messner
My rating: 5 of 5 stars
This was a wonderful middle-grade mystery. The 4 young characters were diverse on many levels and had to learn the value of collaboration and cooperation. There was a very real crime, true bad guys and plenty of action. I picked this one up to read because I received and ARC for the third installment in this series. After this first one I can't wait to read #2 and #3. I totally plan on buying all three for the 3rd grade classroom library I am working on this summer.
Better Nate Than Ever by Tim Federle
My rating: 4 of 5 stars
I start many reviews with the phrase: "I wanted to like this….. " But this time I am going to flip that. " I wasn't really sure I wanted to like this…
I had actually passed over it a number of times. I guess I just wasn't sure how I felt about an LGBT story for my elementary grade students. Since I work mostly with younger elementary advanced readers I have to be discerning . They have the skills to read almost anything but not the maturity always.That being said, I chose this title for my road trip to nErDCampMI this week. I knew that Tim Federle the author, had narrated this audio edition himself, AND he had won an ALA award for this rendition. My need to have evidence before spouting too strong of an opinion won over and I plugged it in.
It was a contagious story with a sparkling character and Federle gave a wonderful performance. My fears were allayed as Nate himself tells us a number of times that he just doesn't know and isn't ready to know where he will land on the sexuality continuim. He is definitely a dramatic and one of a kind personality. Nate delves into his passion of Broadway while navigating the confusion of pre-adolescence and dodging the abuse of cruel middle school bullies. Federle gives him a voice that is driven by Nate's energy but avoids becoming a cliche. Nate's open and vulnerable sharing of his journey to New York and the confusion of emotions it evokes is precious and heartbeaking. It was perfect as an audio book and I miss Nate in my car!
I would hand this to some of my 4th or 5th graders without a problem.
I am totally addicted to this series!

Insurgent by Veronica Roth
My rating: 5 of 5 stars
This is proving to be an amazing dystopia. I found myself struggling a little with believability more with this second installment. However,as it drew to a close and Roth took the reader to the conclusion I was entranced again. As I process the story today I am impressed with how Roth uses the dystopia style to force reflection of our own personalities.
In this book there is still plenty of fast-paced action and romantic tension, but we get a much closer and insightful look at each faction. The factions; Amity, Abnegation, Candor, Erudite and Dauntless each showcase an essential and valuable attribute of society. I have always believed that when we consider our own personality traits we find that our strongest best trait is also the source of our worst weakness. So much of personality is a double-edged sword. Roth shows us the advantages and the pitfalls of each faction.
I think the story of these factions also has something to say about the value of diversity. We need a diverse society, that is willing to work in cooperation and collaboration in order to survive the future.
This is the one Newbery Contender. I REALLY Liked this one!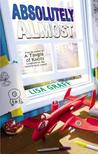 Absolutely Almost by Lisa Graff
My rating: 5 of 5 stars
So many great books to chose from this year!! I totally loved this one. It was a pretty quick read but full of heart. I think I want to make it my go to read aloud next year.
This newest offering from Lisa Graff has an entirely different feel from last year's A Tangle of Knots. This one had far fewer characters and a gentle, less frenetic flavor. It reminded me a lot of Wonder.
Albie, the main character is a kind-hearted struggling student. Every teacher will want to reach out and hug him.