In spite of all that excitement of a new grandson, I have been trying to keep up with the summer challenge. I am going to split this post into 2 parts. The first one will be the picture books I have read with just a picture of the book and the second will be the chapter books with my review.
PICTURE BOOKS

CHAPTER BOOKS
Circa Now by Amber McRee Turner
My rating: 5 of 5 stars
I really, really enjoyed this book. Circa, is a young girl who loses her father in a devastating tornado early in the story. She and her father had worked together on special Photoshop projects. They were particularly devoted to restoring photos for a memory care home in their town. As a way to work through her pain and loss she wants to continue this project even though her mother objects. In the process, she starts to believe there might be something magical about her photo-shopping. In addition, as she and her mother try to return to their lives with Dad, an unusual guest appears on their doorstep.
This story was heart-breaking on many levels. The characters each must find a way through their grief and fears. The frightening effects of memory loss are explored from several perspectives.
The book reminded me somewhat of A Snicker of Magic. In both stories, the interconnections of our lives with those around us prove to be stronger than mere coincidence. The characters and their stories are easier to follow in Circa Now. The language is not as poetic or melodic as A Snicker of Magic, but I think young readers will enjoy this story more.
The Swift Boys & Me by Kody Keplinger
My rating: 5 of 5 stars
Oh this was a powerful read!!! I cried and cried, and had to take a break. But I couldn't stay away. I had quickly fallen in love with all these characters.
Nola has grown up next to the three Swift brothers who have been her "best-best friends" through childhood. But the boys' father, Mr. Swift, leaves the family one night with no explanations or even a good-bye,and life will never be the same. The painful process of growing up and leaving behind childhood is so poignant in this story. Nola's voice in telling her story of this life changing summer is beautiful in its heart-breaking candor.
It is going to be so hard to pick a favorite for the Newbery this year!!
Divergent by Veronica Roth
My rating: 5 of 5 stars
This was a "stay up all night"; "I'm not doing any dishes, laundry or cooking"; "Shush I am at the good part" kind of book. I could not put it down. I had kind of burned out on the whole dystopian genre but I had a student who LOVED this book and then the movie came out and I couldn't hold out anymore. I am so glad I can now converse with the students on this one. It was a well built world (set in Chicago, my hometown) with powerful characters and thought provoking themes.
Beatrice's world consists of 5 philosophical factions. Abnegation, Dauntless, Candor, Amity, and Erudite. Now I must confess I had to look a couple of those words up. In true Dystopian fashion there is an evil controlling government that our courageous characters discover and fight against. The action was non-stop and gut-wrenching. Of course it wouldn't be complete without young love.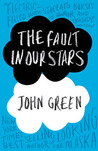 The Fault in Our Stars by John Green
My rating: 4 of 5 stars
I realize that every single one of my friends have given this book 5 stars. I suppose this review suffers from my delay in reading the book, combined with the deluge of expectations that have built up. I often find things (movies and books) anti-climatic if I am exposed to too many rave reviews.
I started hearing John Green accolades over a year ago and because The Fault in Our Stars was on huge waiting lists last summer, I chose to read Paper Towns by John Green instead. I would almost say that I was more enamored with that book than this one.
I think that John Green has a beautiful gift with the written word. However, I think his plots are slightly formulaic. He always has a love story boiling in teen-age existential angst, a moderately crazy girl and an epic road trip. The Fault in My Stars has a little added emotional tug with the childhood cancer theme. I would call it a teen age "Tuesdays with Morrie."
All that to say that I still gave it 4 stars, just couldn't give it 5. I still read it in less than 2 days, and yes I sat at the coffee shop and shamelessly cried in public as I finished it this morning.
A Long Walk to Water: Based on a True Story by Linda Sue Park
My rating: 5 of 5 stars
My friend Holly recommended this book. She actually created a group with her students to help support the cause for clean water in the African region. This book paralleled 2 young people coming of age in Malawi Africa. At first I had trouble seeing how their paths would cross. Because one story, the young civil war refugee, was 15 years before the story of the young Malawian girl struggling for water. But never fear it is a powerful story and worthy of a unit in most classrooms!!
Caminar by Skila Brown
My rating: 4 of 5 stars
This quick book is written in verse. It is interesting to me how many books in verse share such heavy subjects lately.
I read this in companion with "A Long Walk to Water" and they fit together in a powerful way. This book is also set in a war torn country, Guatemala. The young narrator tells of the government and rebel soldiers tearing through his quiet remote mountain village. So many difficult places to grow up in this world….
AND LAST BUT NOT LEAST…..A GRAPHIC NOVEL
Cardboard by Doug TenNapel
My rating: 3 of 5 stars
I have such a hard time with graphic novels. Just not my style, but I respect their value and their draw for readers. This one is highly regarded, by a highly acclaimed Graphic Novelist. The story is of a boy and his father following the death of his mother. The father has fallen into depression and hard times. The only gift he can give his son for his birthday is a piece of cardboard. Of course, the cardboard is magic….
I followed the story for a while, but it seemed to spin off into chaos after a while. That is one of my biggest complaints about graphic novels, is that they cause me to lose all focus. I did not like the antagonist in the story, not because he was a bad guy, but because he was sort of unbelievable to me. Anyway I can see the story's draw and maybe I will try something different by this author.
KEEP READING !!!!!!